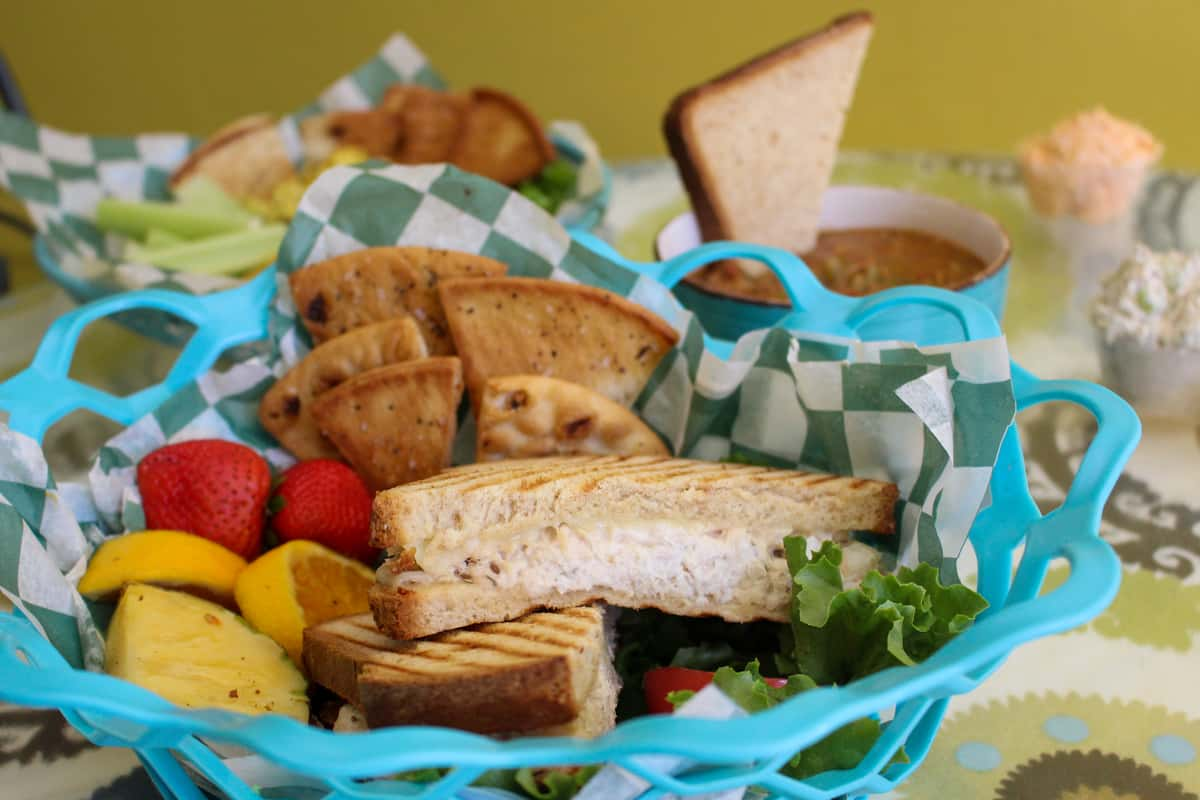 lunch
Midday Box Lunch
3 Options:
1) 1/2 Sandwich - $10.75/person
2) Full Sandwich - $13.75/person
3) Martha's Salad - $14/person

*All options include fresh fruit, pita chips, drinks & dessert.
Midday Signature Lunch
Your go to for bridal lunches & office luncheons.

Weekday Pricing: $16/person
Weekend Pricing: $18/person

Includes: Chicken/Pimento platter, Spinach/Strawberry Salad, Our Famous Pita Chips, Dessert & Our Signature Mint Tea
Gourmet Salad Bar- $18/person
Mixed Green Salad with artichoke hearts, tomatoes, sunflower seeds, dried cranberries, marinated chickpeas, cucumber pickles, feta cheese crumbs, shredded carrots, tuna salad, chicken salad, roasted potatoes, green beans, red onions, sprouts, deviled eggs & homemade salad dressing. Basically the works... Comes with our famous pita chips, a dessert platter & our signature mint sweet tea.
The Executive - $26.99/person
10 person minimum ~

Roasted Beef, Horseradish Aioli and Soft Rolls
Spinach and Strawberry Salad with Walnuts & a Blue Cheese Crumble
Gourmet Roasted Potatoes and Green Beans
Roasted Vegetable Platter
Petite Sweet Tray (Brownies & Cookies)
Our Signature Mint Sweet and Unsweet Tea

* Price does not include Set Up & Delivery Fees, Staffing, Plates/Cups/Napkins/Utensils *
Midday "Sammie" Lunch - $16/person
- Gourmet "Sammies" on Homemade Honey Wheat*
*Tarragon chicken salad, curry chicken salad, pimento cheese, turkey, and vegetarian
- Mixed Green Salad
- Our Famous Pita Chips
- Assorted Cookie/Brownie Bite Platter Garnished w/ Fresh Strawberries
- Our Signature Mint Sweet and Unsweet Tea or Bottled Water
*Gluten free, vegetarian, or vegan options available

* Includes Plates, Cups, Plasticware, Napkins & Ice

*Does not include Delivery/Set Up Fee*
Catering Inquiry
Interested in Marti's catering? Fill out our catering form or give us a call at (706)543-3541 to begin planning your next event!